Over the past couple of years I have been thinking about getting different chairs for our dining room. The chairs that Ryan and I had for several years were red, which was hard to incorporate with the rest of our decor, and were also borrowed from his parents. I finally decided it was time to get new chairs, and change things up a bit. Well, easier said than done. I started looking at the stores that I love, West Elm, Crate and Barrel, and Pottery Barn, and soon found out that brand new dining chairs were probably not in our budget in the near future. I was definitely not prepared to pay $150+ PER chair – YIKES!
I started to brainstorm other options and began to look at outlet and discount stores, but was still not finding any that I was really excited about – and even those prices seemed a little high.
Then one day I got a call from my mom and she was at a garage sale. She had found six wood dining chairs for $70. My initial thought was, Holy Crap! Six chairs for $70 – what a deal! My mom sent me several pictures and surprisingly the chairs were in pretty good shape, with the exception of the black vinyl seat covers and lack of cushion. They were a little antique looking, but I liked them and decided to take them on as a project, and convinced my mom to help me!
Here are a couple of the before pictures:
The first thing that I did was go to Home Depot to look into what I could use to brighten up the chairs and cover some of the scuffs. What I ended up buying was a wood pen, rejuvenating oil, and steel wool – all for about $10.
Next, I went to JoAnne Fabric to look for fabric and cushion for the seats. I got a great deal on 5 yards of fabric that was on sale for $50, and I also picked up some foam to use for cushion on the seat. I used the 2" thick foam that can be found here – luckily my mom had a coupon for 40% off one full priced item, so I was able to use it on the foam, which can get a little pricey.
The last thing I did was Google how to recover a dining chair, and found several good tutorials. Here is one that was helpful for me: http://www.wikihow.com/Reupholster-a-Dining-Chair-Seat
Now that I had all of the materials, it was time to get to work! I started by cleaning the chairs off with a hose, and then taking off the existing vinyl fabric. I used a flat head screw driver and needle nose pliers to take out all of the staples and push pins that were used to secure the vinyl. Next, I took one of the seats and began to trace the seat on the foam first, and then took the seat and the foam and cut out squares of fabric – enough to bring over the edge of the seat and foam, with about 2 extra inches of fabric to work with. Once I cut out 6 squares of fabric and 6 foam cushions, I began to secure the foam and fabric to each seat with adhesive spray glue and a staple gun. The best way that I found to do it (after several failed attempts) was to staple the fabric to the sides of the seat first, and then go back and secure the corners last. You may have to cut off some of the extra fabric so that it is easier to staple down the corners – and remember to make sure that you are pulling the fabric tight before you staple.
After securing the seats to the chair frames, the last touch was a little bit of rejuvenating oil that I applied with fine steel wool (works great on surface scratches) and a wood pen that I used to touch up any dents and imperfections.
Having now completed the project, I did find it to be a little harder than I expected. Luckily, I had my wonderful mom help me!  However, for me it was well worth it because I saved a ton of money. I spent $170, which is about the same price as one chair would have cost me new!
Here are a few pictures of the final product: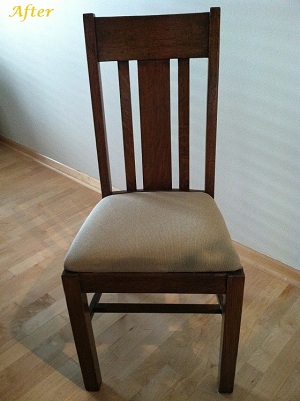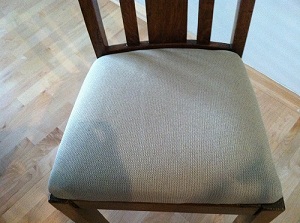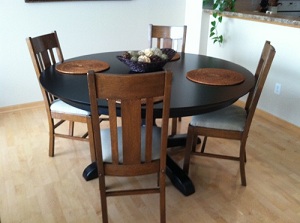 Updating items is a great way to save money and be creative, and can be applied to organizing projects and other projects around your home. Before you go out and buy new stuff for a project, look through the things you already have first and see if you can re-purpose or update an item and use it somewhere else in your home, or browse garage sales for items you can give a new life to.
Thanks for reading! See you next time!