This week I went to my friend Erin's house for a consultation to check out her home office. She recently moved into a new house and needed some ideas to help her get organized. In the weeks to come, I will be sure to post pictures of the project from beginning to end, once we have finished. In the mean time however, I have been doing some research to get a little inspiration. When working on any project, I always look for pictures to get ideas of concepts that I can incorporate into the space. I have several books and magazines that I refer to often, and also look to the internet for ideas. One of my favorite websites is houzz. Houzz is a great place to browse pictures of different spaces, and allows you to create "ideabooks" to organize all of the pictures that you love. Here are a few of my favorites that gave me inspiration for this project.
After posting several pictures to my houzz ideabook, I realized that there was a theme developing. The spaces that I was loving were all elegant, yet clean and simple. I like that all of the pictures above utilize a lot of white and natural light, which makes the space bright and inviting, while also adding  pops of color. I would like to incorporate some of these concepts into Erin's office by using white storage units and bookcases, and also adding some color in either the decor and/or on the walls. After having discussions with Erin about her ideas for the space, and the end product she would like to see, I really think she will love these ideas along with all of the great organizing solutions we came up with for her office. You will have to check back to see the final product!
I have to admit, my research was not solely for Erin'
s office project, as I was looking to find a space in my home that I could call my own as well. Currently, our spare bedroom is used as an office/guest bedroom that is mainly occupied by Ryan and his equipment, and does not allow much room for me. After stepping back and looking at the spaces in our home, I decided that I was going to make a small corner in our master bedroom my office space. It was previously used as a reading nook (and for pillow storage) and was really the only space in the house that was not being utilized, so I thought I would give it a shot. I didn't have a lot of space to work with, but it works and I love it!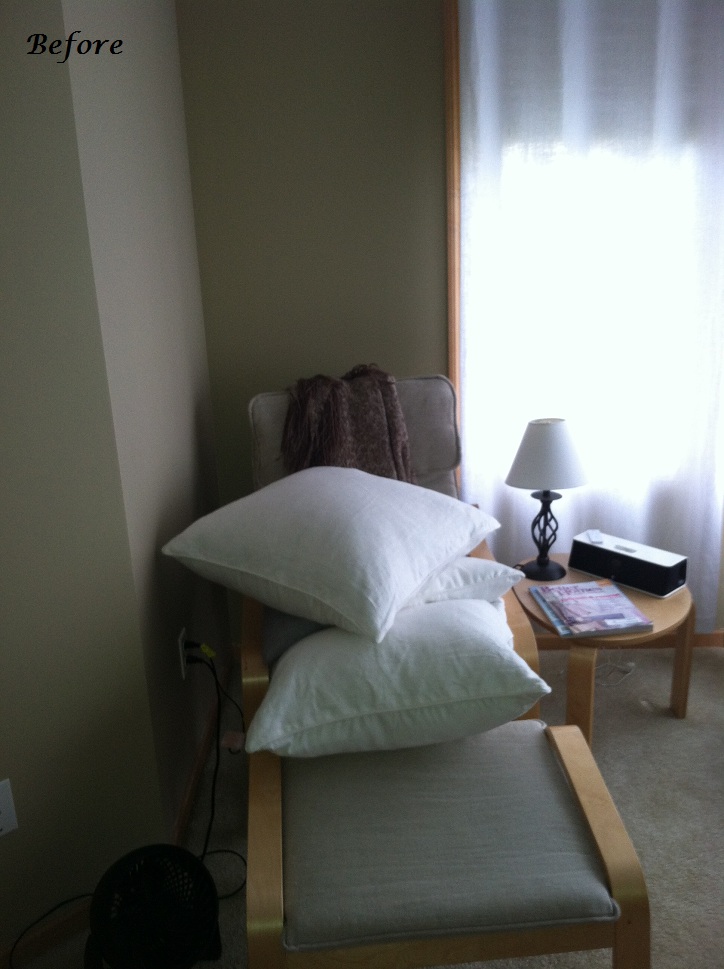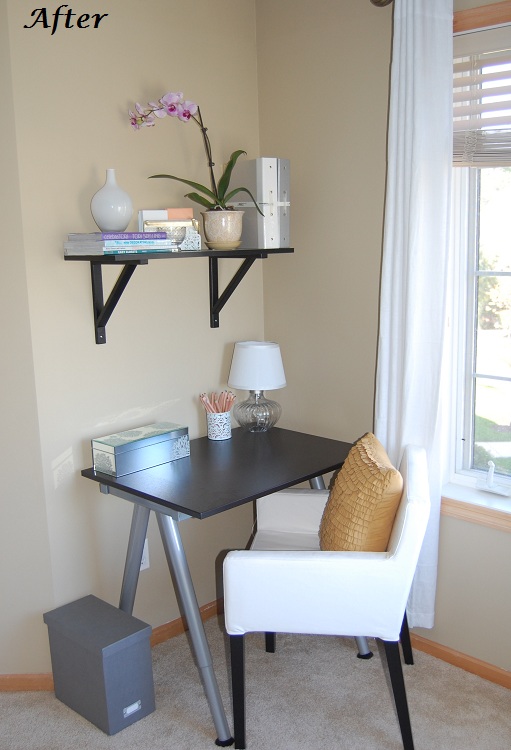 As with most projects, it is a work in progress, and I have a little more work to do. I plan to add some color and maybe a bit more storage at some point, but for now I love that it is clean and has a great view out the window! When you have a very small space you have to be careful not to overload it with too much "stuff" or it will start to look cluttered, which is what you are trying to avoid in the first place. Don't be afraid to keep it simple – I did, and now I have my own little space where I can curl up with a cup of coffee and get to work!

Thanks for stopping by! See you next time!